Administrator
Staff member
We have just published new releases of
FWCloud-API
1.7.0,
FWCloud-UI
1.6.0 and
FWCloud-Agent
1.2.1 whose main goal is the addition of new plugins for add NGFW (Next Generation FireWall) features to the firewalls managed by means of FWCloud.
If the communication mechanism that you use for manage your firewalls/clusters is by means of
FWCloud-Agent
, then you will have access to the plugins tab that will allow easily add NGFW features like Suricata, DNS Safety, Web Safety, CrowdSec, etc.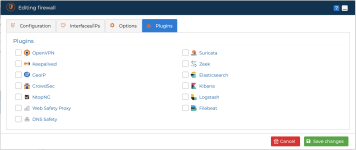 Update procedure
The next time you access your FWCloud platform by means of the web user interface, a popup message will warn you about the new versions for FWCloud-UI, FWCloud-API and FWCloud-Websrv packages. Say yes to run the update process and your FWCloud platform will be updated in a matter of a few minutes.
To update Docker containers when new versions of FWCloud are available follow the
next instructions
published in the corresponding section of the FWCloud website.
In order to update FWCloud-Agent you will found documentation about the procedure to follow
here
.
New features
- Keepalived plugin.
- Suricata plugin.
- Zeek plugin.
- Elasticsearch plugin.
- Kibana plugin.
- Logstash plugin.
- Filebeat plugin.
- Web Safety Proxy plugin.
- DNS Safety plugin.
- CrowdSec plugin.
- NtopNG plugin.
Latest video tutorials
-
MyFWCloud - SaaS
.
Documentation
https://fwcloud.net/en/documentation/
Help
https://forum.fwcloud.net/